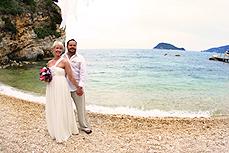 What could be more romantic than getting married on a tiny island in the Ionian Sea?
The beach on this private island is available to hire exclusively for your wedding, the only place in Greece where this is possible.
Beach Weddings in Greece, Cyprus, Italy & Malta
Many couples dream of a beach wedding and there are lots of locations in Greece, Cyprus, Italy & Malta where you can exchange your vows by the sea.
From the most famous beach in the Mediterranean to a small beach on a private island for private hire, the choices are endless.
Choose from a simple barefoot ceremony on the sand to a beautiful set up with white covered chairs, flower arch and red carpet. Then for your reception, why not combine your beach wedding with a BBQ reception or a meal at a beachfront taverna?
Islands where beach weddings are possible
Please contact our wedding consultants on 020 8892 7556 for more information or fill out our wedding questionnaire and we'll get back to you with some more ideas for your beach wedding in Greece, Cyprus, Italy or Malta