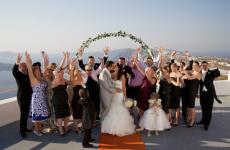 Get married in this famous winery with the best views in Santorini! Then enjoy delicious Santorini cuisine in the nearby vineyard restaurant
Garden and Winery weddings in Greece, Cyprus, Italy & Malta
Our wedding islands are blessed with gardens and extensive olive groves. In Greece, the Ionian Islands are particularly green - here you can find some lovely garden settings for your wedding or choose the famous Robola winery. In the Aegean, Santo winery offers spectacular views and you can toast your vows with the wine produced on site.
Cyprus has a long history of wine making, many believe it is the world's oldest producer of wine. You can hire a winery exclusively for your wedding, right on the spot where wine was first made thousands of years ago. And for garden weddings in Cyprus, choose from a wide range of landscaped hotel gardens, many with spectacular sea views.
In Italy we offer weddings in the beautiful gardens of Ravello with the most spectacular views of the Amalfi coast.
Wedding locations where garden weddings or winery weddings are possible
In the botanical gardens or at the famous Robola winery
In a unique garden setting by the sea
At Santo winery with spectacular views
At a winery or in landscaped hotel gardens
At the beautiful Ravello gardens with spectacular views of the Amalfi coast
Please contact our wedding consultants on 020 8894 1991 for more information or fill out our wedding questionnaire and we'll get back to you with some more ideas for your garden or winery wedding in the Mediterranean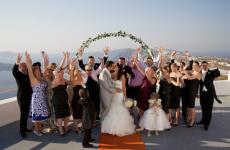 Get married in this famous winery with the best views in Santorini! Then enjoy delicious Santorini cuisine in the nearby vineyard restaurant