We are the UK's leading experts in Mediterannean weddings and our award winning approach means we will make your dreams come true.
We 'do' perfection.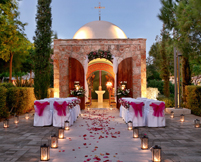 See our most opulent luxury wedding venues and packages - when only the very best will suffice.
A hand picked selection of inspirational wedding itineraries across Greece, Cyprus, Malta and Italy. Be spoilt, it's the best day of your life!