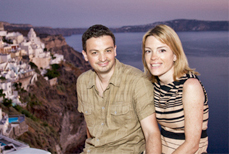 Above: Andreas & Jane on their wedding day in Corfu and receiving their award from Vince Cable, Business Secretary. Right: the happy couple today
Our team : Jane Stuart-Palikira
Co-founder of Ionian Weddings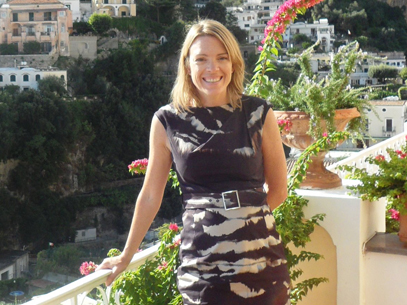 Jane first went to Greece 15 years ago on a business trip and immediately fell in love with the country and its people. She made contacts all over the country which came in useful when organising her own wedding in Corfu. Jane had 10 years' experience at a senior level in the travel industry before setting up Ionian Weddings and speaks English, Greek, Italian, Spanish & French. She is on the board of the AWTE (Association of Women Travel Executives) as Events Chair. Jane has visited all the islands featured and specialises in our Italy weddings.
"After the success of our own wedding in Greece I dreamed of being able to help other couples have the same experience and I'm really proud that we have gone on to organise weddings for more than 800 couples in Greece and Cyprus.
I think out couples' testimonials speak for themselves but it was fantastic to see our success officially recognised when we received our recent award from the Business Secretary, Vince Cable. We constantly strive to offer the best experience to our customers and recently joined ABTA to offer extra peace of mind, the first ever weddings company to be granted ABTA membership".
Our team : Andreas Palikiras
Co-founder of Ionian Weddings
Andreas was born and lived in a small mountain village in Corfu up to the age of eighteen. He originally came to the UK to study at university and has been here ever since although he goes back to his homeland at every opportunity. Upon graduation, Andreas held senior marketing positions before setting up Ionian Weddings with Jane at the start of 2007. He has visited all our venues across the Greek islands and works tirelessly to find new and exciting wedding locations throughout Greece, Malta and Cyprus.
"When we started Ionian Weddings, I couldn't have dreamt of being where we are today. Our philosophy of making client aspirations and dreams an affordable reality has made us the obvious choice for bespoke Mediterranean weddings.
I particularly enjoy turning a new venue into a unique wedding itinerary that you can't find on the high street. Being Greek definitely helps in negotiating the best for our clients and our glowing testimonials show that we go the extra mile to create perfect and unforgettable weddings."
Jane and Andreas are also passionate supporters of various special causes, both in Andreas' homeland and also locally to where they work.
Our team: Stacey Crook
Senior Wedding Consultant

Once my parents decided to move our family to Mallorca at the young age of 10 my life changed. I loved living and growing up within the laid back Mediterranean lifestyle. Having attended international school I saw the world in an 'anything is possible' eye and therefore decided to move back to the UK to further my studies in BSc (Hons) Events Management at the University of Plymouth.

During my university experience I completed a Wedding Planning Course and it was at that very moment when I fell in love with the wedding industry and everything it had to offer. Soon after the wedding course I joined a specialist wedding and event company in Plymouth where I planned and coordinated couples weddings in a Fort, Country House and Gin Distillery. I fell even deeper in love with planning weddings because I had the opportunity to make a couples' dreams come to true.

Having achieved all I could in Plymouth I knew London was the next move for me to develop my career. As soon as I came across Ionian Weddings, I immediately knew I wanted to be a part of such an amazing company. A company that plans weddings in some of the world's most amazing destinations.

Throughout my life I have also had a strong creative streak and a keen eye for detail. For this reason I can't wait to discuss wedding décor and all the finer detail to make the couples' weddings truly memorable.

Our team: Clare Edwards
Wedding Consultant

Having had a strong passion for weddings from such a young age, becoming a wedding planner has been a lifelong dream come true. Whilst living in Sorrento working as an events coordinator I grew strong relationships with the locals and clients as well as acquire a strong taste of Sorrento's finest cuisine.

Living here allowed me to develop my planning skills as well as experience the Neapolitan Culture. I was blessed to be surrounded by the spectacular scenery that this particular part of Italy has to offer..

As a wedding consultant I am dedicated to going that extra mile to create the perfect wedding, large or small, to make sure you have the best day of your life.

My perfect wedding would be to marry abroad in the Mediterranean sun, and I am very fortunate to make this happen for other people. It is not just a job to me it is a great opportunity to meet new people, discover new cultures, and create the perfect day.

Our team: Joanne Finlay
Wedding Consultant

Joanne/Jo is originally from Northern Ireland and it was during her time at university that she developed a love for travel and hospitality.

Following her graduation she joined an international tour operator and spent 8 years overseas working and experiencing many destinations and cultures.

It was during this time that she progressed into the role of wedding co-ordinator and spent 5 busy years in Cyprus and Santorini, where she developed a great passion for the wedding industry.

Joanne/Jo is now excited to join the team, to share her expertise and love of the destinations with us and all our wedding couples. She is looking forward to turning each wedding dream into a lasting memory for each couple in her favourite destinations.

Our team: Bernice Bartolo
Wedding Consultant

Bernice has recently graduated from Tourism Management at the University of Malta. She is currently taking a Masters in Hospitality Management at the University of West London. She has worked over six years in luxury hospitality firms in Malta and London.

My professional emphasis is giving advice on how to make your best out of the Maltese Islands. I chose to work in this industry primarily because I aspired to meet different people every day and be part of creating amazing and personalised experiences.

After years of working in the Maltese tourism industry, I can say that I know the island inside out. I will also be closely monitoring and studying social media trends so it will be my pleasure to give advice on overall wedding trends, with a special focus on the perfect venue for you and your loved one.

It is an honour for me to be part of such a successful company that focuses on one of the most exciting and breath-taking regions worldwide. What's more fascinating is that all of the team is so eager to share their first hand knowledge!

I look forward to speaking with all of you who are looking to host their big day in the Mediterranean. It is a place close to my heart and I know that it is or will be close to yours too!

Our team: Rachel Verghese
Wedding Consultant

I have worked internationally in the Wedding and Events industry for over 8 years. I have always had a passion for working in weddings which encouraged my study of events management and wedding planning and design.

I love travelling the world and have worked in a number of destinations including the Mediterranean, Europe and Australasia. I enjoy getting to know my couples and their personal love stories as it helps me tailor the perfect special day for them.

I am honoured to be joining the fantastic team at Ionian weddings and look forward to working with all our Brides and Grooms to be.